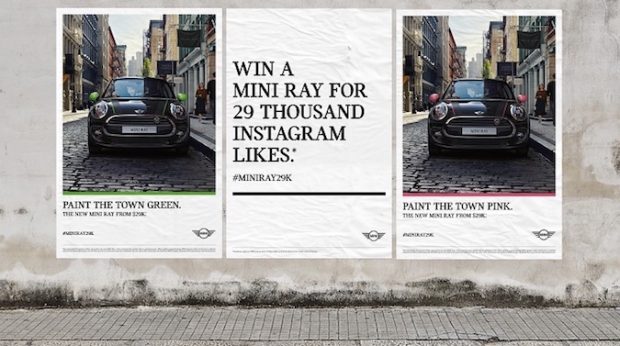 Mini has launched competition in which 29,000 Instagram likes will win a new Mini Ray car, as part of the brand's 'Funexpected' brand campaign.

To celebrate the Australian launch of its Mini Ray model, Mini has launched the #MINIRAY29K Instagram competition campaign.

The #MINIRAY29K campaign encourages entrants to post images, games, gifs, challenges, songs, videos and stunts. After two weeks, three finalists will be shortlisted, and the first to reach 29,000 likes will win a Mini Ray.

To sell to any audience you have to to first understand it. Discovering how they think, act and purchase is only the first step to finding new opportunities to engage with them.

This is especially true of the Millennial generation whose purchasing power is increasing and continue to drive consumer demand with the influence of sheer numbers.

More than any other generation, Millenials rely on each other, sharing opinions with friends and have technology at their fingertips with multiple communication channels through which they communicate with each other.

And this is where the fun begins....

"The #MINIRAY29K promotion provides us with a more engaging platform to reach the key millennial audience we are targeting for this campaign," says Gabrielle Byfield, National Marketing Manager, Mini.

"Given traditional ATL (Above The Line) channels don't typically resonate well with the millennial set, we wanted to find a way to reach them in a medium they engage with every day. Having a social led promotion with #MINIRAY29K provides us with the perfect opportunity to do so."

Social media has transformed how this generation shares its thoughts and extends its influence over others. Stars/Likes/comments/reviews has given them the power to pass judgement or opinion. Millennials know their voice has power and they are wielding it.

Have you thought about what makes your target audience tick? Let 2 Creative Media help you find your voice so you can speak the right language on the right channels. Let's talk (02) 6761 2222.