---
IKEA Encourages People to #StayHome
After the COVID-19 outbreak, #Stay at home became a world handle. Most of us had no idea what "social distancing" was just one month ago, but you can hear it from everyone right now.
Business and brands also feel responsible to encourage people to stay home. Therefore, the most popular brand in our minds related to home, IKEA, created a campaign around this idea.

IKEA pays tribute to our homes. They wanted to demonstrate home is the place that's always there with many memories and feelings for us, and "it will be here, no matter what." The commercial avoids any direct sales messages, and has had more than 1 million users already watched it on Social Media in just one week.

This timely ad campaign in partnership with McCann reminds us what home means to us. It's where we have celebrated good news, where we can be ourselves. With #StayHome, this short and minimalistic film invites us to see our homes from a new perspective and to make it a place where we can enjoy new experiences and sensations during this time.
It looks like IKEA will continue to deliver these types of campaigns which encourage people to stay home. The Swedish retailer also created a similar campaign in Isreal. It can be the easiest set of IKEA directions you'll likely to ever come across. You need just a key, a lock and 100 rolls of toilet paper to follow the instructions.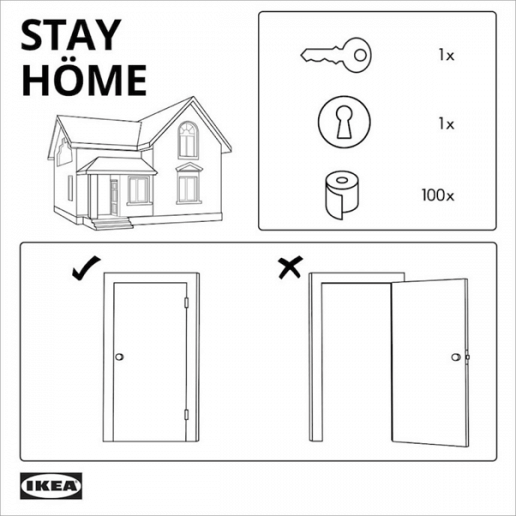 It's not the first time IKEA and McCann collaborate for an ad campaign. In a quarantined world, McCann obviously has limited resources, and time for this sensitive spot and the creative with that sense of humor includes a simple but powerful message: #StayHome.
---