Taking an 'asset approach' to content creation.

Creating content in a modular way allows you to break it down and assemble it in different formats, making it easier to create the right presentation for a particular channel - the more variations - the more opportunities.

Take John West...they took their iconic Kodiak bear mascot, connected him to one of their own most successful ad campaigns and hooked it up to the competitve social media markets for cooking shows and wild animals and voila!

John West launched a video ad campaign featuring its kodiak bear mascot appearing as a celebrity chef.

Chef Bear prepares four recipes, each using a new tuna product form John West's new Fiery Range. First up, Chef Bear grills a tuna melt and, perhaps unsurprisingly, does a little more harm than good in the kitchen.

The aim of the humorous videos, says Ryan Willett, brand manager at Simplot Australia, is to compete with cooking videos which are dominating social media feeds. Each of the four videos used one of the four NEW tuna flavoured products.

"This is a very competitive category, and with social feeds dominated by cooking videos, using our biggest brand asset to create some cut through made a lot of sense," he says.

"The idea is pretty simple, people like watching cooking shows, and people like wild animals. We combined the two with some pretty entertaining results," says Ben Couzens, co ECD at Cummins and Partners Melbourne.

"With nearly two million eyeballs on these films in just one week, it has struck a chord," says Couzens.

John West's 'Man versus Bear' salmon commercial achieved fame in the 90s and to this day, regularly features on top funniest commercials lists and countdowns.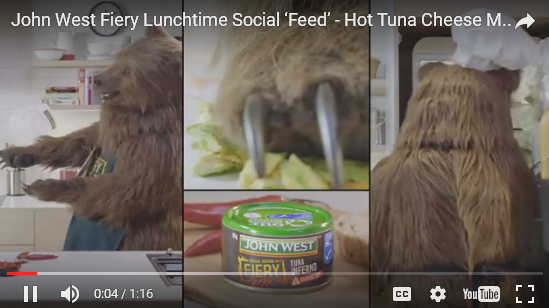 Having a strategic marketing plan that maximises the impact of each piece of content you create, reduces time, increases ROI and ensures efficiency in marketing spend.

2 Creative Media are your content strategy specialist and can help you find opportunities to cleverly deploy your content and receive more value from it over time...

give us a call about your next campaign (02) 6761 2222.