---
Brand Collaborations: Uniting Unlikely Allies for Unforgettable Impact!
In the vast realm of modern marketing, standing out from the crowd is the ultimate challenge. But fear not, for you don't have to face it alone. Brand collaborations, often an untapped resource, can hold the power to elevate your marketing endeavours to extraordinary heights.
A year after releasing their first-ever Pasta Sauce, which took the market by storm with its "Ridiculously Late" arrival but "Ridiculously Good" taste, Kraft Heinz New Ventures surprises the world with one of the most unexpected partnerships of the year.
Enter the extraordinary collaboration between Heinz and the renowned premium vodka brand, Absolut Vodka. Together, they fulfilled the dreams of Pasta alla Vodka enthusiasts by introducing the UK's first-ever tomato vodka pasta sauce in a limited-edition launch in March this year.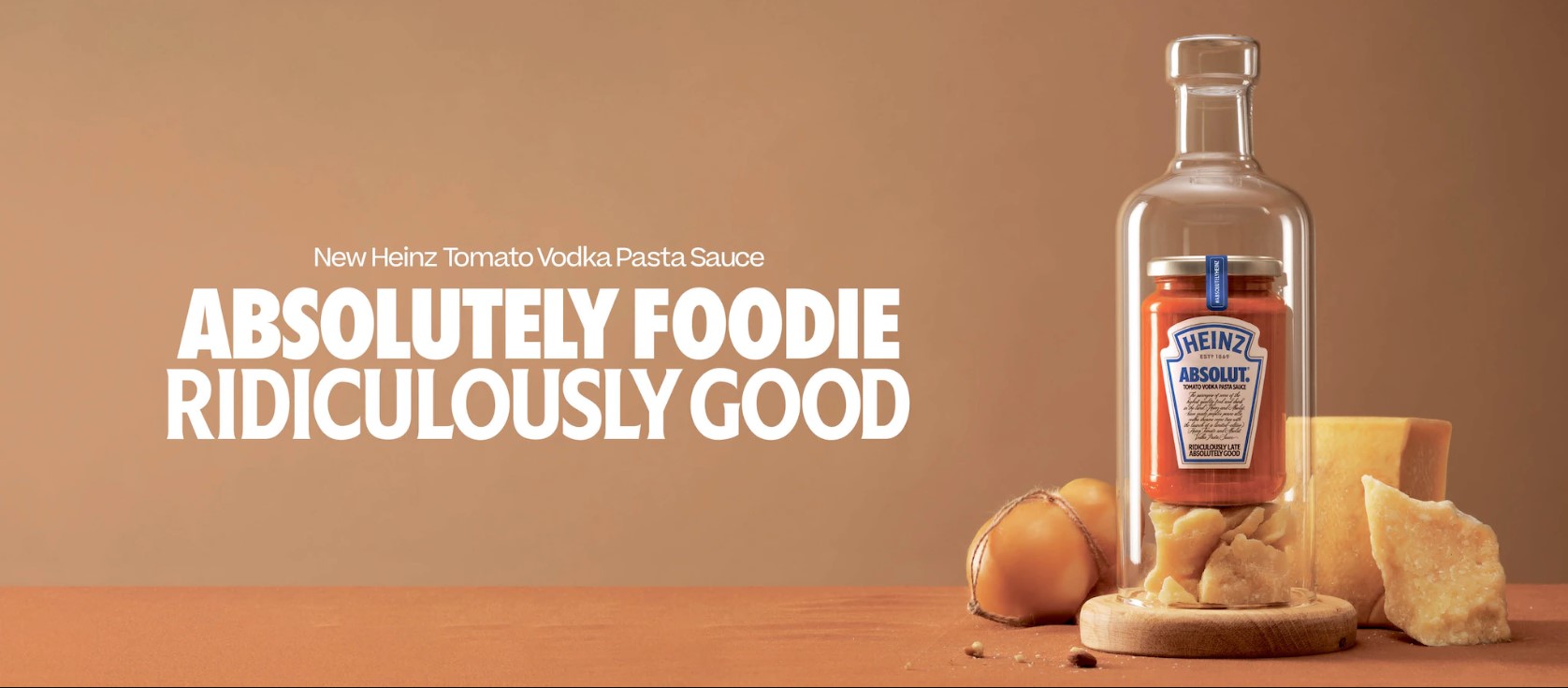 This captivating campaign paid homage to the iconic Absolut ads of the 1980s, with a delightful Heinz twist. Different executions bear taglines like
"Absolutely Heinz. Ridiculously Good,"
"Absolutely Tomato. Ridiculously Good,"
"Absolutely Pasta. Ridiculously Good," and
"Absolutely Foodie. Ridiculously Good."
The campaign sprung to life across London, captivating passersby with billboards strategically placed in prominent locations. As the momentum built, a vibrant social media campaign with enticing posts gracing the channels of both Heinz and Absolut, all united under the hashtag #AbsolutelyHeinz.
This unconventional endeavour by Heinz and Absolut has turned heads, attracting the curious and adventurous souls to take the dive and experience this unique creation - the rest will no doubt follow suit! In its sheer unconventionality, this campaign secures a lasting spot in the minds of consumers, undoubtedly marking it as a resounding success.

Are you embarking on a new venture of your own, or looking to collaborate with another brand? Look no further than 2CM. We're experts in brand liftoff. Allow us to be your trusted guide, accompanying you every step of the way as your brand takes off and soars to new heights.
Don't let your message get lost in the noise. Contact us today.
---