Advertise stupidity; Save Lives.
In New Zealand, young males make up over 33% of all preventable drownings. Now whilst we aren't stating that they are stupid, we are accepting the fact that there is a general tendency to make some dumb calls when near water.

Enter the Swim Reaper - The manifestation of sarcastic and satirical marketing!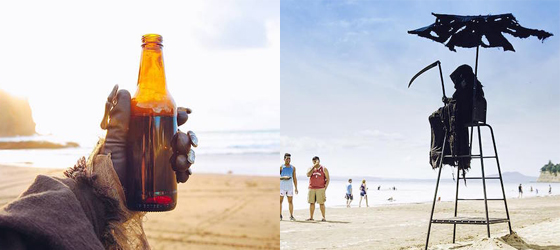 Since a dark sense of humour wouldn't sound right coming from an authority figure, FCB decided to invent a character to be our mouthpiece. The logical choice – the person who would benefit most from more fatalities – was the grim reaper aka the "Swim Reaper". The Swim Reaper set up in channels which enabled him to speak in a very targeted and relevant way to young males; namely Instagram, Snapchat and Facebook. His profile @iamtheswimreaper gained 17,000+ followers in 8 weeks.
Key messages were then reinforced with paid posts on Instagram as well as in the form of online banners. One such banner read, "Rocks are just big softies. Always up for a good face hug."

It was in this layer that the campaign line was introduced – "Swim dumb and you're done."

When you need to be heard, you need to call us... 02 6761 2222